Sponsor A Display
It's a great way to support the museum
Be a sponsor. Show our hundreds of visitors that you are serious about preserving the history of electric communications for the benefit of future generations.If you are unable to visit the museum, check out the list below and let us know which display item you'd like to sponsor. Then fill out the sponsorship form below and we'll do the rest.

Once we receive your application and donation, we'll place an attractive card with your name next to the display item. The card will tell our visitors of your commitment to support the museum's goals. We'll keep the card and the item on display for a full year. You may visit your display free during the sponsorship year at any time the museum is open. And, as an added "thank you", if you choose, we'll send you a free mug with the museum logo.
Looking for a Sponsor:
Display case with several novelty radios. Sponsor the enite display!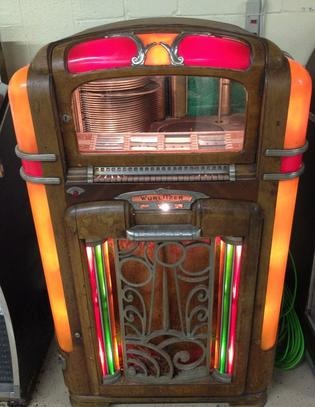 Once we receive this application and your donation, we'll place an attractive card with your name next to the display item. The card will tell visitors of your commitment to support the museum's goals. We'll keep the card and the item on display for a full year. You may visit your display free during the sponsorship year at any time the museum is open. And, as an added "thank you", if you choose, we'll send a free mug with the museum logo. (The museum is a 501(c)3 organization and your sponsorship is tax-deductible. Accepting a mug reduces the tax-deductible amount by $5.00)
If you prefer, you may download and mail in your Sponsorship Application Form.
Form available in Word or PDF